Serving Tallahassee FL & The Big Bend Region.
We pride ourselves on being the trusted movers for Florida's beautiful Big Bend region. From the tree-lined streets of Tallahassee to the rolling red dirt hills and sleepy coastal communities, our commitment remains the same: to provide top-notch moving services that respect the unique characteristics of our region.
Towns & Cities We Service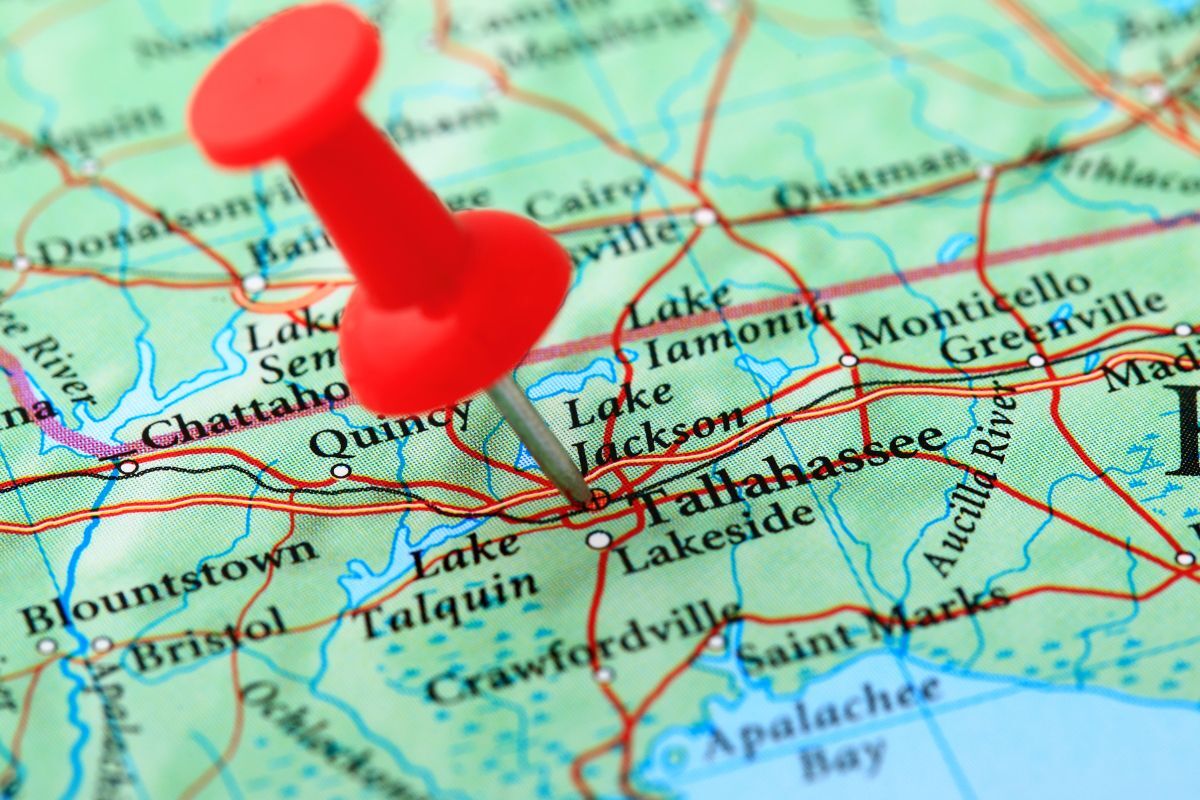 We take pride in being the best moving company in Tallahassee and beyond. Each city, town, and neighborhood we serve has its own flavor, history, and charm. We honor that uniqueness in every move.
📍 Tallahassee, FL (Leon County): As the vibrant hub of the Big Bend region, Tallahassee is where our roots run deepest. Our team understands the rhythm of the city — from the academic buzz near FSU to the historical neighborhoods echoing tales of old. Every Tallahassee move is an homage to our city's dynamic spirit.
📍 Woodville, FL (Leon County): Nestled just southeast of Tallahassee, Woodville boasts a peaceful environment that's close to the heart of it all. Our moves in Woodville prioritize preserving that serenity while ensuring a smooth transition, whether you're coming or going.
📍 Bradfordville, FL (Leon County): Bradfordville is a blend of history and scenic beauty. Our team respects its unique character, offering moves that cater to the community's unique needs, from the canopy roads to the sprawling landscapes.
📍 Fort Braden, FL (Leon County): A stone's throw from Lake Talquin, Fort Braden combines waterfront charm with rural tranquility. We approach each move here with an appreciation for the area's natural beauty, ensuring minimal disruption and maximum efficiency.
📍 Midway, FL (Gadsden County): Strategically positioned between two key cities, Midway serves as a crossroads in the Big Bend region. Our tailored moving solutions here make transitions in, out, and around Midway effortless and streamlined.
📍 Havana, FL (Gadsden County): Havana's antique charm and tight-knit community require a delicate touch. Our Havana moves reflect a deep understanding of the town's history and its people, making each transition seamless and respectful.
📍 Quincy, FL (Gadsden County): The leafy streets of Quincy have seen many a Myrick truck over the years. We're adept at navigating its historic districts, ensuring that every move honors Quincy's storied past and bright future.
📍 Monticello, FL (Jefferson County): With its antebellum homes and rich history, Monticello is a treasure in the Big Bend region. We're equipped to handle moves here with an extra dose of care, ensuring the city's heritage remains untouched.
📍 Crawfordville, FL (Wakulla County): Crawfordville's coastal allure is undeniable. Our team is well-versed with the intricacies of moving in this watery wonderland, ensuring your belongings transition smoothly from point A to B.
📍 Perry, FL (Taylor County): As the doorway to Florida's Big Bend, Perry stands as a sentinel of southern hospitality. We bring that same warmth and professionalism to every move in this inviting town.
Our Moving Services
We've tailored our services to cater to a diverse range of needs, ensuring that whether you're relocating your family or your business, or simply need debris cleared away, we've got you covered.
Residential Moving Services: Moving a home is about more than just possessions; it's about memories, aspirations, and the promise of a new beginning. Our team is trained to handle your personal belongings with the utmost care, ensuring they reach your new abode safe and sound.
Commercial Moving Services: Relocating a business is a complex task that requires precision, timeliness, and expertise. We specialize in efficient commercial moves, ensuring minimal downtime so you can get back to business as soon as possible.
Debris Removal: Post-move or after a decluttering spree, there might be items you no longer need. Our debris removal service ensures your space remains clear and clutter-free. We handle the heavy lifting so you don't have to.
Ready For Your Next Move?
Whether it's a short hop within Tallahassee or a long-distance move, Myrick Moving Company is your trusted partner. Dive into a moving experience like no other. Contact us today.
Request A Quote